What is the Huntsville AL Walk-in Clinic
A walk-in clinic is a medical facility that has the ability to provide medical care to patients quickly and usually without an appointment. A walk-in clinic is a great choice for you if you would like to see a doctor for a minor issue but do not have the time to schedule a new appointment with your regular doctor and can't wait until your next doctor's visit. The Synergy Wellness Walk-in Clinic offers immediate care for minor illnesses and injuries.
We see patients both with and without appointments, so whether you need a scheduled time or if you woke up with a surprise sickness we are able to see you whenever you need. We are staffed by both nurse practitioners and doctors who are friendly and patient-focused. We can provide treatment for common ailments like the flu, sinus infections, and other similar non-life threatening general health care needs.
Our Walk-in clinic also offers laboratory services and skin tests if needed. If you need specialized care, we will be able to refer you to a specialist to take care of whatever needs you might have. Whether you need a sports physical, tetanus shot or diagnosis, our walk-in clinic at Synergy Wellness will be able to serve you.
Services We Offer
If you are needing help with illness, camp physicals, laboratory test or even minor injuries, the Synergy Wellness Walk-in Clinic can help. We have multiple doctors and nurses on staff that can provide care to any non-life threatening situation.
We even do our initial lab testing on site so you don't have to go across town to get it done. Our clinic is open to both children and adults aged 2 and up and we offer payment plans when needed. Along with a walk-in clinic, Synergy Wellness also offers multiple other services including:
IV Vitamin Infusions

Medical Weight Loss Assistance

Medication Assisted Therapy

Covid testing and Treatment

Ketamine Infusions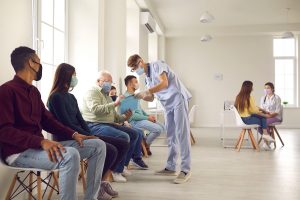 Why Synergy Wellness
Synergy Wellness is here to help you take control of your health and wellness. We are founded by board certified Emergency Physicians, who know that true overall improved physical well-being can be achieved with multiple services including after hours care, vitamin infusions or a walk-in clinic, so no matter the time or need we have an option for all patients.
Synergy Wellness is a holistic wellness center that uses cutting-edge science and medicine to improve the lives of our patients, with an ultimate goal in mind: healthful happiness for everyone! We understand that there is not a one size fits all answer to every problem. Not all people benefit from or even need the same treatment. That is why we specialize in so many different services, that way we are able to serve more people, provide more options, and see more results.
We have two different locations in Huntsville, AL to choose from, with both offering all services. If you need help achieving overall wellness, come see one of our medical professionals that Synergy Wellness to help you get where you want to be.