Who Offers the Best Emsella Treatments in Huntsville
Synergy Wellness is the number one place in Huntsville to get Emsella treatments. Our main goal is to help you take control of both your health and wellness and Emsella treatments help you do just that. We ensure the highest standards of safety are met during every Emsella session, providing you with the most effective results possible. With Synergy Wellness by your side, you can be confident that you're receiving expert care and an enjoyable experience every time you come in for your Emsella treatment.
We are dedicated to helping our clients take control of their lives and feel empowered to live life on their own terms. These treatments are proven to be incredibly effective and efficient, helping to improve bladder control and reduce urinary incontinence symptoms. Unlike traditional methods such as Kegels, which require time and effort on the part of the patient, Emsella provides an easy way to strengthen your pelvic floor in only one 28 minute session.
During this procedure, you will be seated on a special chair with Emsella pads targeting specific areas of your body where pelvic floor muscles are located. All you have to do is sit back and relax while your body is becoming happier and healthier. With Synergy Wellness, you can trust that you're getting the very best treatment possible in Huntsville.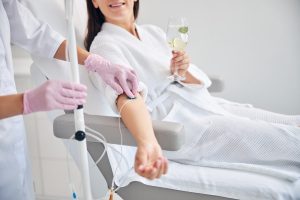 Services We Offer
We are proud to provide revolutionary treatment utilizing state-of-the-art technology. Emsella treatment is a non-invasive procedure that uses High-Intensity Focused Electromagnetic (HIFEM) technology to stimulate pelvic floor muscles, resulting in improved bladder control and increased sexual satisfaction.
It creates pelvic floor muscle contractions in order to strengthen the weak pelvic floor muscles. One 28 minute treatment is comparable to thousands of Kegels. Although Emsella is one of our top treatments, here at Synergy Wellness we have more to offer. Here is a list of all of our services:
IV Vitamin Infusions

Medical Weight Loss Assistance

Medication Assisted Therapy

Covid testing and Treatment

Ketamine Infusions

EMUSCULPT NEO

EMTONE

Walk-in Clinic
Why We Are The Experts
At Synergy Wellness we are founded by board certified Emergency Physicians with combined experience totalling over 60 years, that makes us experts and we are proud to be so. Our team of specialists are  dedicated to providing quality care and support to each and every one of our clients, ensuring that you receive the best possible treatment results.
With Synergy Wellness, you can rest assured that you are receiving top-of-the-line services from qualified professionals who understand your needs. We take pride in bringing this revolutionary technology to our clients, helping them achieve enhanced and lasting wellbeing. Because we have the knowledge we are able to treat each customer like the individual they are meeting their specified and specialized needs rather than a one size fits all approach.
With us you can trust us with your Emsella journey and look forward to positive life changing results. Our certified doctors, years of experience and state of the art technology makes us Huntsville's Emsella experts.